Courtesy of Toby Hayes, CreditUnions.com
April 14 2023 — Members of Peoples Advantage Federal Credit Union ($98.9M, Petersburg, VA) that reside in remote parts of Southern Virginia needn't worry if they can't travel to a branch. That's because they have a branch that can travel to them.
"We call it our mobile unit," says Amanda Habansky, CEO of Peoples Advantage. "There's no clever cartoon name. It's just the People's Advantage Mobile Unit. It is really freaking cool, we think."
In this case, the "branch" is a converted Ford E450 van large enough to seat five people ready to serve members in a variety of ways. The branch on wheels includes a vault for cash transactions, an ATM, instant-issue credit and debit card services, and desk space for loans and new account opening. Read more
---
Courtesy of Ken McCarthy, American Banker
Feb. 3, 2023 — Chartway Credit Union has formed a new credit union service organization called Chartway Ventures that will invest in fintechs that complement its operations. Brian Schools, Chartway Credit Union's president and CEO, said developing its own CUSO will drive innovation.
"These investments will be carefully chosen for their innovative approach, scalability, compatibility with Chartway's operations and potential for strong economic returns for credit union members," the Virginia Beach, Virginia-based company said in the release.
The $2.6 billion-asset Chartway brought together several industry experts to serve on the CUSO's volunteer board, including Steve Warnecke as its chairman.
Warnecke, a Chartway Credit Union board director, is a media executive with more than 20 years of domestic and international experience in TV program distribution, media sales, sponsorship and management in both broadcast and cable. Read more
---
Jan. 6, 2023 — League President/CEO Carrie Hunt and Chief Advocacy Officer JT Blau will travel to Washington this week to meet with Virginia's Congressional Delegation and participate in receptions for new members of the legislature. The 118th Congress is underway, though with some drama as Republicans, who hold the majority in the House, failed to elect a Speaker today.
"Each session of Congress brings new opportunities and challenges, and with this session, engagement will take on a new level of importance given the thin majorities for Democrats in the Senate and Republicans in the House," said League President/CEO Carrie Hunt. "With the support of our credit unions, our advocacy work will remain laser-focused on measures that empower credit unions to serve their members, thrive in today's ever-evolving marketplace, and which address our increasingly burdensome regulatory environment."
---
Courtesy of Lewis Wood, Virginia Credit Union League
Sept. 27, 2022 —Following the recent introduction of a House version of the Credit Competition Act of 2022 (H.R. 8874), your League sent a new round of letters to every member of our Congressional delegation, noting our opposition to the House and Senate legislation and to any proposed changes to the current payments system.
"This legislation would undermine the overall health and security of the U.S. payments ecosystem and have significant negative implications for consumers and small businesses," reads the League letter. "This effort by merchant groups to shift billions of dollars of consumer credit card spending to less secure, less innovative, and higher-risk transactions would make America's payment system less secure and put consumers in a vulnerable position."
Merchants continue to press Congress to pass this legislation. Credit unions are pushing back, having generated tens of thousands of letters to Congress on the issue and making interchange a centerpiece of our advocacy efforts since the introduction of the Senate version (S.4674) in July.
Your League has met with every member of the state Congressional Delegation at least once on the interchange issue and state credit union champions have generated hundreds of letters and emails to Congress in opposition to the legislation.
Read our letters – Senate version and House version
---
Three credit unions in three different states have announced plans to merge with each other.
Courtesy of CUToday.info
MUNA Federal Credit Union
MUNA FCU was established in 1962 as a Navy military CU and operates one branch, serving more than 6,000 members. MUNA FCU reported $286,558 in net income for the first half of the year, with capital of 10.47%.
Pinnacle Credit Union
PCU was established in 1926 and serves more than 6,000 members via two branch locations. Pinnacle reported $2.040 million in net income over the first six months of the year, with capital of 9.01%.
RVA Financial Credit Union
RVA Financial was established in 1950 and serves more than 9,000 members with two branch locations. It reported $179,123 in net income in the first half of 2022, with capital at 9.27%.
---
Aug. 30, 2022 — The $95-million Pinnacle Credit Union in Atlanta, the $51-million MUNA FCU in Meridian, Miss., and the $80-million RVA Financial Credit Union in Richmond, Va. said they are seeking to combine pending regulatory approval and membership votes.
According to the three credit unions, if approved each would maintain its individual brand for a "short time" as they work to determine a unified brand. The organization's combined assets would be approximately $216 million and the CU would more than 23,000 members with five branches across Virginia, Mississippi, and Georgia.
All three credit unions are running the same core system, which they noted will make merging easier. NCUA call report data show all three credit unions are profitable.
Proposed Management
The merger proposal calls for Bo Pittman, current president/CEO of MUNA FCU, to become CEO and regional president of the proposed organization; Matt Selke, current resident/CEO of Pinnacle, to become CFO and regional president, and Rick Preble, current president/CEO of RVA Financial, to become COO and regional president.
"This merger represents a mutually advantageous partnership between three member-focused credit unions committed to providing exceptional service while offering competitive products and access to their members and the communities they serve," the credit unions said in a statement. "In a global financial sector that is changing, these organizations are committed to a collaborative pooling of resources and talent coupled with a mission to serve members, employees, and communities better.
"All three credit unions are in agreement that in today's highly regulated, high-tech environment, it is becoming more difficult for smaller credit unions to compete in everything from technology to recruiting," the statement continued. "This is what makes the idea of smaller credit unions working together collaboratively to pool resources and do things together for the good of their members a strategy some credit unions are choosing to pursue. The idea of pooling resources is the very foundation credit unions were built on. The credit union industry remains steadfast in its mantra of people helping people and mergers are just one way to do this."
Additional Services
The credit unions said that once merged they will also be able to offer members a 24/7 contact center, home equity loans, business lending, and ITMs, services not all three of these organizations are currently offering.
"Another benefit of this merger is the fact that RVA Financial is community development financial institution (CDFI) certified and once combined the three credit unions will remain committed to serving low-income communities and providing financial services to people who lack access to financial products, services, and lending," the credit unions said.
The merger requires approval by members of MUNA FCU and Pinnacle Credit Union. If approved, the credit unions said they plan to complete the merger in early 2023.
Click here to read this entire article.
---
Courtesy of Frank Gargano, American Banker
August 9, 2022  —State regulators have shot down a bid by Virginia Credit Union in North Chesterfield to expand its membership to include a statewide medical society after a preliminary approval three years ago sparked a backlash from local banking advocates.
The Virginia State Corporation Commission — which oversees utilities, insurance, state-chartered financial institutions and more — denied the $5 billion-asset credit union's request to add approximately 10,000 members of the Medical Society of Virginia to its field of membership on the grounds of not upholding statutes of Virginia law.
The agency stated that "VACU has not met its burden to show that 'the formation of a separate credit union by [MSV] is not practicable, or is not consistent with reasonable safety-and-soundness standards,' " according to the official filing.
According to state regulations on field of membership expansion for credit unions, an institution must first prove that the group seeking to join is unable to reasonably or safely form a separately chartered organization before it can obtain the SCC's approval. If eligible, the credit union must additionally show it is well capitalized, in good standing and well situated to accommodate the proposed new members.
"We are disappointed by last week's decision. … [As] we believe that extending membership eligibility as an option for members of the Society was reasonable," the credit union said in a publicly released statement last week.
The denial concluded a roughly three-year effort by the Virginia Bankers Association and several community banks in the state that have been protesting an original 2019 approval from the Bureau of Financial Institutions, a regulatory subsidiary of the SCC tasked with consumer protection through enforcing state laws concerning depository and nondepository financial institutions.
Bruce Whitehurst, president and chief executive of the Virginia Bankers Association, said that past approvals of similar efforts from credit unions included groups with roughly 3,000 members, or about a third of the organization VACU sought for inclusion.
"We believe that it is true that there's never been a state [chartered] credit union to ask for a 10,000-member group to be added to a field of membership … that's more than three times the statutory limit," Whitehurst said. "There have been a handful of groups approved that exceeded 3,000, but under very different circumstances than a statewide trade association for medical professionals."
Whitehurst stressed that the impact of the Bureau of Financial Institutions' 2019 decision would see smaller community banks such as those that petitioned alongside the Virginia Bankers Association disproportionately affected by a loss of taxable revenue.
Other credit unions seeking to bolster their consumer base have opened branches in neighboring states and merged with peer institutions. These activities have drawn the ire of banking advocates who argue that the focus should instead be on local communities.
Other ongoing legislative debates between the two include proposals allowing credit unions to accept funds from public institutions and have seen similar pushback.
Click here to read the entire article.
---
March 1, 2022 — As of today, our two credit union parity measures have won final approval in both houses of the General Assembly and await the governor's signature.
Companion bills SB329 and HB209 will make the process easier for state-chartered credit unions to offer specific services, activities or practices authorized for federally chartered credit unions. The state Bureau of Financial Institutions retains its supervisory and regulatory authority over the state-chartered credit union's ability to offer any new service, or pursue any new activity or practice, but once this measure is signed into law, state-chartered credit unions will benefit from a simplified approval process for such services or activities. Of note, this measure does not provide any sort of authority related to the expansion or modification of the state-chartered credit union's core charter.
Companion bills HB268 and SB326 will fix the Virginia statute so that the NCUA's Subordinated Debt Rule will not conflict with the Virginia Code.
Today, the two Senate bills were enrolled – the last legislative step before they reach the governor's desk. The two House bills were enrolled yesterday.
"These parity measures represent an important win in our work to ensure a healthy dual chartering system," said Virginia Credit Union League President/CEO Carrie Hunt. "We thank our credit unions – both state and federal charters – for joining with us to advocate for these bills. With only 23 state-chartered credit unions left in Virginia, it is crucial we ensure parity between the charters and provide credit unions the tools they need to best serve their members."
Hunt last month testified before both the Senate Commerce and Labor Committee and a House Commerce and Energy subcommittee in support of our legislation, noting the importance of parity legislation that helps state-chartered credit unions remain on equal footing with federally chartered credit unions.
---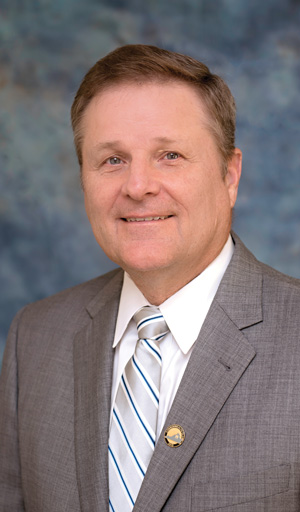 November 22, 2021 — Rick Pillow, retired president of the Virginia Credit Union League, was honored Nov. 11 with the organization's highest individual honor, the James P. Kirsch Lifetime Achievement Award.
The James P. Kirsch Lifetime Achievement Award recognizes individuals who devoted their time and talents to ensure a brighter, better future for credit unions. It is named in honor of the late James P. "Jimmy" Kirsch, a longtime credit union volunteer whose passion for credit unions led him to leadership roles at the state, national and international levels.
"As someone who knew Jimmy personally, I appreciate this award for the high honor that it is," said Pillow. "I'm grateful to the League Board for this recognition and I'm thankful to past and present Board members for their leadership and to League staff members for their support."
Pillow retired in June 2021, after a 40-year career in the credit union industry, including service for more than two decades as the League's president.
"I was honored to serve Virginia's credit union system," said Pillow. "What a privilege it's been to have known and to have worked with so many wonderful people over those four decades, and I'm grateful and humbled by the difference they made in my life on both a personal and professional level."
---
August 31, 2021 — Both the House and Senate are in recess this week, but several committees in both chambers have scheduled hearings. The House Armed Services Committee will begin its markup of the National Defense Authorization Act (NDAA) for fiscal year 2022 Wednesday at 10 a.m.
Your League and other industry partners have pushed lawmakers to reject any proposed language that would require DoD to treat for-profit banks the same as credit unions when it comes to leases and lease costs for on-base branches. Last month, your League wrote Sen. Tim Kaine expressing our concerns and making the senator aware of the joint letter forwarded by the Credit Union National Association, the Defense Credit Union Council and the National Association of Federally Insured Credit Unions.
---
Bipartisan Bill to Ease CU Member Expulsion Debuts in House
April 1, 2021 — House Financial Services Committee members have proposed legislation that would allow credit unions to more easily expel members who engage in abusive or illegal behavior.
Introduced by Tom Emmer, R-Minn., and Ed Perlmutter, D-Colo., the legislation would improve existing language in the Federal Credit Union Act related to member expulsion in order to protect credit unions, members and employees.
The legislation would allow an appeal that would provide due process for the accused member. Currently, federal credit unions are required to hold a special vote and obtain two-thirds approval from all members in order to expel a member.
It would also provide parity with several state-chartered credit union models or standard bylaws, which often have a "for cause" provision or board-adopted policy for expulsion.
Emmer and Perlmutter introduced similar legislation last year, and a similar bill was also introduced in the Senate. (American Banker, April 1)
---
April 1, 2021 — It's already too late for Virginia to redraw political districts in time for the 2021 House of Delegates races, but the U.S. Census Bureau's decision to speed up its delivery of new population data means Virginia lawmakers could be voting on future maps right before the November elections.
Census officials had told states to expect to get the data by late September, but Virginia officials say they now expect to receive it by the second week of August.
Under the newly created Virginia Redistricting Commission's constitutional timeline, receipt of the data starts a 45-day clock for the commission to submit new legislative maps to the General Assembly for an up-or-down vote. Once the legislature received the proposed maps, it has 15 days to vote on them.
That means a vote on new state Senate and House of Delegates districts could come at a special session in October, a few weeks before the Nov. 2 election when all 100 House seats will be on the ballot. The ramifications of the process occurring during the peak political season are unclear, but it raises the possibility that some candidates will be voting on maps that make dramatic shifts in the districts they're running in as they're making their final pitches to voters.
---
March 3, 2021 — The General Assembly has officially adjourned, with a couple of measures of interest to credit unions being forwarded to the governor for his signature.
Your League was pleased to see the establishment of a Community Development Financial Institution (CDFI) fund for the state with $10 million in funding come July 1. The fund's primary purpose would be to provide loans, grants and forgivable loans to small businesses or community revitalization real estate projects through community development credit unions and banks. Criteria for the program is to be developed by the Department of Housing and Community Development. The appropriation includes up to $300,000 for administrative overhead, including the hiring of up to three full-time employees.
Your League supports HB1964 (Del. Lamont Bagby) which provides the State Corporation Commission should more flexibility in working with troubled credit unions prior to insolvency.
Your League worked to amend HB2175 (Del. Luke Torian) to protect creditors' interest with respect to judgment liens. This bill is identical to SB 1327. (Jennifer L. McClellan).
READ MORE
---
Credit Union Director Compensation Bill Advances in Virginia
February 26, 2020 — Recently, the Virginia House and Senate passed Virginia Credit Union League-supported companion bills that would permit state-chartered credit unions to compensate board members. The legislation, HB 813/SB 296, caps compensation at $6,000 annually and exempts certain insurance coverage for officials from the compensation calculation. Because of the limits placed on the compensation, bankers dropped opposition to the measure.
Credit unions have historically had all-volunteer boards and while most still do, a small but growing number have begun offering compensation in recent years in order to better attract candidates with the skills necessary to oversee a modern complex financial institution. Virginia supervisory and credit committee members can already be paid.
---
What's new in your state?
Click here to submit your state-chartered credit union news stories to NASCUS today!