CU Parity Measures Reach Final Legislative Step; On Their Way to Governor's Desk and Becoming Law
Courtesy of Lewis Wood, Virginia Credit Union League
March 1, 2022 — As of today, our two credit union parity measures have won final approval in both houses of the General Assembly and await the governor's signature.
Companion bills SB329 and HB209 will make the process easier for state-chartered credit unions to offer specific services, activities or practices authorized for federally chartered credit unions. The state Bureau of Financial Institutions retains its supervisory and regulatory authority over the state-chartered credit union's ability to offer any new service, or pursue any new activity or practice, but once this measure is signed into law, state-chartered credit unions will benefit from a simplified approval process for such services or activities. Of note, this measure does not provide any sort of authority related to the expansion or modification of the state-chartered credit union's core charter.
Companion bills HB268 and SB326 will fix the Virginia statute so that the NCUA's Subordinated Debt Rule will not conflict with the Virginia Code.
Today, the two Senate bills were enrolled – the last legislative step before they reach the governor's desk. The two House bills were enrolled yesterday.
"These parity measures represent an important win in our work to ensure a healthy dual chartering system," said Virginia Credit Union League President/CEO Carrie Hunt. "We thank our credit unions – both state and federal charters – for joining with us to advocate for these bills. With only 23 state-chartered credit unions left in Virginia, it is crucial we ensure parity between the charters and provide credit unions the tools they need to best serve their members."
Hunt last month testified before both the Senate Commerce and Labor Committee and a House Commerce and Energy subcommittee in support of our legislation, noting the importance of parity legislation that helps state-chartered credit unions remain on equal footing with federally chartered credit unions.
---
Rick Pillow Recognized with Virginia Credit Union League's Kirsch Lifetime Achievement Award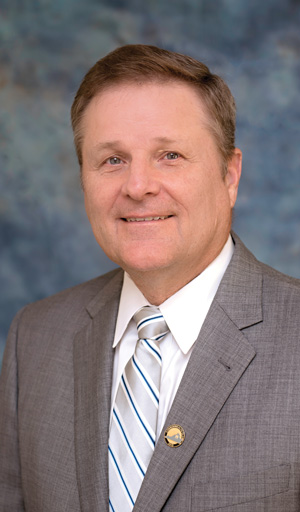 November 22, 2021 — Rick Pillow, retired president of the Virginia Credit Union League, was honored Nov. 11 with the organization's highest individual honor, the James P. Kirsch Lifetime Achievement Award.
The James P. Kirsch Lifetime Achievement Award recognizes individuals who devoted their time and talents to ensure a brighter, better future for credit unions. It is named in honor of the late James P. "Jimmy" Kirsch, a longtime credit union volunteer whose passion for credit unions led him to leadership roles at the state, national and international levels.
"As someone who knew Jimmy personally, I appreciate this award for the high honor that it is," said Pillow. "I'm grateful to the League Board for this recognition and I'm thankful to past and present Board members for their leadership and to League staff members for their support."
Pillow retired in June 2021, after a 40-year career in the credit union industry, including service for more than two decades as the League's president.
"I was honored to serve Virginia's credit union system," said Pillow. "What a privilege it's been to have known and to have worked with so many wonderful people over those four decades, and I'm grateful and humbled by the difference they made in my life on both a personal and professional level."
---
House Committee to Begin Markup of NDAA
Authored By: Lewis Wood
August 31, 2021 — Both the House and Senate are in recess this week, but several committees in both chambers have scheduled hearings. The House Armed Services Committee will begin its markup of the National Defense Authorization Act (NDAA) for fiscal year 2022 Wednesday at 10 a.m.
Your League and other industry partners have pushed lawmakers to reject any proposed language that would require DoD to treat for-profit banks the same as credit unions when it comes to leases and lease costs for on-base branches. Last month, your League wrote Sen. Tim Kaine expressing our concerns and making the senator aware of the joint letter forwarded by the Credit Union National Association, the Defense Credit Union Council and the National Association of Federally Insured Credit Unions.
---
Bipartisan Bill to Ease CU Member Expulsion Debuts in House
April 1, 2021 — House Financial Services Committee members have proposed legislation that would allow credit unions to more easily expel members who engage in abusive or illegal behavior.
Introduced by Tom Emmer, R-Minn., and Ed Perlmutter, D-Colo., the legislation would improve existing language in the Federal Credit Union Act related to member expulsion in order to protect credit unions, members and employees.
The legislation would allow an appeal that would provide due process for the accused member. Currently, federal credit unions are required to hold a special vote and obtain two-thirds approval from all members in order to expel a member.
It would also provide parity with several state-chartered credit union models or standard bylaws, which often have a "for cause" provision or board-adopted policy for expulsion.
Emmer and Perlmutter introduced similar legislation last year, and a similar bill was also introduced in the Senate. (American Banker, April 1)
---
Under Virginia Redistricting Schedule, Lawmakers Might Vote on New Maps at Height of Election Season
April 1, 2021 — It's already too late for Virginia to redraw political districts in time for the 2021 House of Delegates races, but the U.S. Census Bureau's decision to speed up its delivery of new population data means Virginia lawmakers could be voting on future maps right before the November elections.
Census officials had told states to expect to get the data by late September, but Virginia officials say they now expect to receive it by the second week of August.
Under the newly created Virginia Redistricting Commission's constitutional timeline, receipt of the data starts a 45-day clock for the commission to submit new legislative maps to the General Assembly for an up-or-down vote. Once the legislature received the proposed maps, it has 15 days to vote on them.
That means a vote on new state Senate and House of Delegates districts could come at a special session in October, a few weeks before the Nov. 2 election when all 100 House seats will be on the ballot. The ramifications of the process occurring during the peak political season are unclear, but it raises the possibility that some candidates will be voting on maps that make dramatic shifts in the districts they're running in as they're making their final pitches to voters.
---
General Assembly Adjourns; Lawmakers Create CDFI Fund
March 3, 2021 — The General Assembly has officially adjourned, with a couple of measures of interest to credit unions being forwarded to the governor for his signature.
Your League was pleased to see the establishment of a Community Development Financial Institution (CDFI) fund for the state with $10 million in funding come July 1. The fund's primary purpose would be to provide loans, grants and forgivable loans to small businesses or community revitalization real estate projects through community development credit unions and banks. Criteria for the program is to be developed by the Department of Housing and Community Development. The appropriation includes up to $300,000 for administrative overhead, including the hiring of up to three full-time employees.
Your League supports HB1964 (Del. Lamont Bagby) which provides the State Corporation Commission should more flexibility in working with troubled credit unions prior to insolvency.
Your League worked to amend HB2175 (Del. Luke Torian) to protect creditors' interest with respect to judgment liens. This bill is identical to SB 1327. (Jennifer L. McClellan).
READ MORE
---
Credit Union Director Compensation Bill Advances in Virginia
February 26, 2020 — Recently, the Virginia House and Senate passed Virginia Credit Union League-supported companion bills that would permit state-chartered credit unions to compensate board members. The legislation, HB 813/SB 296, caps compensation at $6,000 annually and exempts certain insurance coverage for officials from the compensation calculation. Because of the limits placed on the compensation, bankers dropped opposition to the measure.
Credit unions have historically had all-volunteer boards and while most still do, a small but growing number have begun offering compensation in recent years in order to better attract candidates with the skills necessary to oversee a modern complex financial institution. Virginia supervisory and credit committee members can already be paid.
---
What's new in your state?
Click here to submit your state-chartered credit union news stories to NASCUS today!