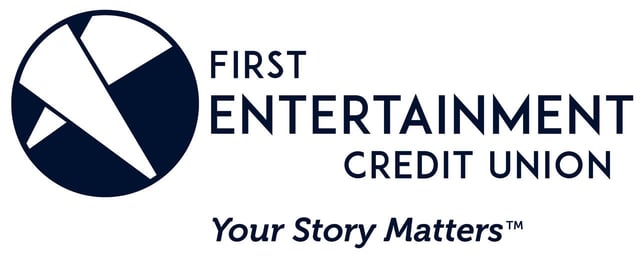 First Entertainment Credit Union has reliably served people working in film and entertainment at every level in the industry since 1967.
It was founded by employees of Warner Bros. Studios on a small production lot originally under the name Warner Seven Federal Credit Union. Over the years, it has merged with other credit unions associated with film, music and entertainment, including Columbia, MGM, Paramount, A & M Records, and Six Flags, to name a few. Eventually it was renamed First Entertainment Credit Union after switching from a federal to a state charter.
First Entertainment currently operates nine branches in Los Angeles County and manages $2 billion in assets with a team of more than 220 employees. Its membership base now stands at nearly 90,000.
Membership is available to those who work at any of the companies First Entertainment represents and their family members, and extends to anyone who lives, works, worships, attends school or operates a business in Los Angeles County.
An incredible amount of manpower goes into manufacturing the glitz and glamor associated with Hollywood and the mega stars at the forefront of film, music and other forms of entertainment. And not every actor or entertainer has a net worth in the tens of millions.
The reality is that most people who work in these industries have modest incomes, and they need to balance their finances just like the rest of us.
Since industries of this nature rarely provide traditional financial support structures that are more common with typical salary-based jobs, it only makes sense to have banking institutions that cater to those types of workers who don't receive a W-2.
So for First Entertainment Credit Union, the idea of servicing the local community isn't common banking jargon – it's about providing a real resource for those who need support.
---
March 18, 2022 — In the spirit of making a difference during a time of global tragedy, the California and Nevada Credit Union Leagues has pledged $100,000 toward Ukrainian financial relief efforts to help sustain credit union employees and members who are most in need as the current crisis unravels across that country.
"From thousands of miles away, we stand with our movement and remain committed to supporting Ukraine's humanitarian plight as local credit unions, staff and members are besieged by a lack of food, water, housing, and other supplies and operational resources," said Diana Dykstra, president and CEO of the Leagues. "Our trade association's daily mission to help credit unions change people's lives is emboldened during times like these, no matter where the devastation is taking place and help is needed."
The Leagues' contribution to the Ukrainian Credit Union Displacement Fund will directly support mitigation of both short and long-term impacts to Ukraine's credit union system, including displaced credit union employees, members, and challenges to the country's credit union system over the long term. The California Credit Union League pledged $75,000 and the Nevada Credit Union League pledged $25,000.
The credit union system — including state leagues, industry partners, and locally headquartered credit unions across both states and the nation — has a long history of working together to support communities during disasters at home and abroad. Brought on by war, the current emergency in Ukraine is no different as it affects residents, workers and their families through hardship and isolation.
---
March 16, 2022 — Napa Valley Community Foundation (NVCF) and Redwood Credit Union (RCU) have entered a first-of-its-kind partnership that aims to accelerate the adoption of accessory dwelling units (ADUs) in Napa and Sonoma Counties. The result is an innovative ADU construction loan product that will enable more homeowners to borrow the capital they need to construct second units.
Redwood Credit Union, a mission-driven, not-for-profit financial institution with 400,000 members in northern California, is managing all aspects of the ADU lending program. Napa Valley Community Foundation, a public charity that focuses on the most important challenges facing the region, including the scarcity of workforce housing, is setting aside reserves that will be available to help defray losses that the credit union may incur under new underwriting standards that take future ADU rental income into account in ways that traditional loan products do not.
"We think our collaboration with RCU will open the door to thousands of fixed-income, middle-income, and lower-income homeowners in the North Bay, people who would not otherwise be able to afford to finance an ADU," said NVCF President Terence Mulligan. The loan product, Mulligan continued, does two things differently. "First, it allows borrowers to include a significant share of their expected ADU rental income during the underwriting process, which means a more favorable debt-to-income calculation, which generally means a bigger loan. Second, it establishes a value for the completed ADU based on future rental cash flows instead of the cost of construction, which means a more favorable loan-to-value number, which also makes more capital available."
The Association of Bay Area Governments has determined the need to identify capacity for 18,400 new housing units in Napa and Sonoma Counties during the upcoming eight-year Housing Element period (2023 to 2031). ADUs will play an important role in helping to alleviate the significant housing challenges, creating much-needed affordable workforce housing.
---
May 2022 — After leading Upward Credit Union for 24 years, President and CEO Linda White has announced plans to retire. The credit union has named a successor. White plans to step down on Sept. 1, with current VP-operations Jason Mertz-Pickett selected to step into the role.
"Over the past 37 years, longer than some of our employees have been alive, I have shepherded Upward Credit Union from $3 million in assets – from being in a damp, leaky office space in a medical building – to the thriving $100 million boutique credit union it is today," White said.
Upward CU Board Chair Annie Miller noted that during her career White has not just led the credit union but has served on numerous committees with the California Credit Union League, CUNA, CUNA Mutual, the Department of Financial Protection and Innovation (DFPI), and founding board member for the Healthcare Credit Union Association (HCUA). White is also a founding member of the Credit Union Women's Leadership Alliance, where she will serve as executive director after her post ends at Upward.
White graduated from Western CUNA Management School in 1990, received the Distinguished Service Award along with the Grassroots Leader of the Year and the Kim Bannan Eternal Flame Award in 2012 and 2018, respectively, from the California and Nevada Credit Union Leagues, and became a Credit Union Development Educator (CUDE) in 2019.
In the People Helping People Business
"We're in the people helping people business here at Upward, and I'm excited for the future of our credit union and thank the board for appointing me as the new CEO," Mertz-Pricket said. "Under Linda's direction, we have cultivated such a talented and dedicated team that connect, engage and help our members 'soar Upward.' My promise is that we will continue to put our members first, work as a team, and be an advocate for change."
Prior to joining Upward, Mertz-Prickett spent 17 years with other credit unions in the bay area, working his way from a member service representative to C-Suite leader. He earned his bachelor's degree in accounting and finance and an MBA from Western Governors University, in addition to many other industry certifications that recognize his accomplishments.
---
April 2022 – CommonWealth Central Credit Union's Board of Directors is pleased to announce the selection of Viktoria Earle as their next President and CEO. The current CEO, Craig Weber announced his plans to retire and following his announcement, the Board began their search for the Credit Union's next CEO. Viktoria Earle, CommonWealth's current Chief Financial Officer was selected from a nationwide pool of candidates and will transition into her new role in May of 2022.
"After an extensive search, we are excited that the credit union's new CEO came from within. Viktoria's depth and breadth of experience will enable her to provide strategic direction and leadership to continue moving our credit union forward. We are excited to begin this journey and offer our support as she transitions into her new role," said Michael F. Filice, Jr., CommonWealth's Board Chair.
In addition to her nine years of service at CommonWealth as the Credit Union's Chief Financial Officer, Viktoria brings her extensive experience with multi-billion dollar financial institutions. Her responsibilities covered a broad spectrum of areas including executive leadership, strategic positioning, tactical planning, product development, business partner building, Board relations and people engagement and development.
When asked about her new position, Viktoria Earle said "It is an honor to be named the next President and CEO of CommonWealth. I appreciate the confidence the Board of Directors has placed in me to lead the Credit Union. CWCCU is passionate about making a difference in the lives of our members and communities, and I look forward to continuing this mission."
Craig Weber, who started his career at CommonWealth more than 27 years ago said, "As I bid a fond farewell to CommonWealth, a place I've called home for so long, I would like to thank you for the privilege of serving you. I'm confident in CommonWealth's bright future under Viktoria's leadership."
---
Cloey Hewlett is Commissioner at the Department of Financial Protection and Innovation. She was appointed by Gov. Gavin Newsom in September 2021 and was sworn in on December 6, 2021. Commissioner Hewlett has dedicated her career to protecting California consumers, serving as Undersecretary of the State and Consumer Services Agency and Interim Director of the Department of General Services. She has worked as Director of Moral Character Determinations for the State Bar of California, and as a partner with national and global law firms. Before her appointment, Commissioner Hewlett was the Executive Director and Chief Legal Officer for the Cal Alumni Association, where she was responsible for overseeing an organization that serves more than 550,000 alumni of the University of California, Berkeley.
Commissioner Hewlett has decades of regulatory and prosecutorial experience. As Assistant District Attorney in the San Francisco District Attorney's Office, she prosecuted high-level crimes and conducted special investigations, including embezzlement and fraud cases. And as a corporate attorney, she worked closely with her financial services clients to address the challenges they faced in a regulatory environment and to ensure they understood the law. Her experience growing up in poverty calcified her understanding of financial scams and the deep challenges faced by California consumers.
Commissioner Hewlett received a B.A. in political science from the University of California Berkeley and her J.D. from the UC Berkeley School of Law. She is a founding member of the Black Women Lawyers Association of Northern California and is committed to continuing the DFPI's equity and outreach goals.
The California Department of Financial Protection and Innovation (DFPI) held its quarterly California Credit Union Advisory Committee meeting this past week, where attendees got to meet newly appointed Commissioner Cloey Hewlett.
"We were pleased to see she recognizes credit unions' special purpose and mission," said Lisa Quaranta, vice president of regulatory advocacy and compliance for the California Credit Union League.
Hewlett's top priorities are affordable housing and greater access to banking for the unbanked and underbanked.
"Commissioner Hewlett said she believes it all begins with institutions like credit unions," Quaranta added. "We look forward to working with her."
DFPI's Deputy Commissioner Position
Credit union leaders are encouraged to consider who might be a great fit for the open position of DFPI deputy commissioner in 2022.
If you have any recommendations for this important job placement, please email Lisa Quaranta.
---
Sept. 29, 2021 — Clothilde Hewlett, 67, of San Francisco, has been appointed Commissioner at the California Department of Financial Protection and Innovation. Hewlett has been Executive Director and Chief Legal Officer at the Cal Alumni Association since 2016. She was a Partner at Nossaman LLP from 2009 to 2016. Hewlett was a Partner at K&L Gates LLP from 2003 to 2009 and Interim Director at the California Department of General Services from 2002 to 2003.
Hewlett was Undersecretary at the California State and Consumer Services Agency from 1999 to 2003. She was Director of Moral Character Determinations at the State Bar of California from 1991 to 1999. Hewlett held several positions at the San Francisco District Attorney's Office from 1979 to 1991, including Assistant District Attorney and Special Prosecutions Criminal Investigator. She is a founding member of the Black Women Lawyers Association of Northern California. She earned a Juris Doctor degree from the University of California, Berkeley School of Law.
---
WILDFIRES: 'EXTRAORDINARY SITUATION,' GRANT RELIEF, & CU LESSONS
August 27, 2021 — As local credit unions and their members pivot to the whims of wildfires raging across Northern California, an "extraordinary situation" proclamation was made by the California Department of Financial Protection and Innovation (DFPI) on Wednesday for the counties of El Dorado, Shasta, Siskiyou, Tehama and Trinity.
CUAid grants — administered by the National Credit Union Foundation (NCUF) — are available for credit union employees and board members to assist with immediate disaster relief needs, such as out-of-pocket costs that may result from being evacuated.
Click here for CUAid grant guidelines, the application process, disbursement details, and more information. You can also find the grant application here. (You can also view the California and Nevada Credit Union Leagues' disaster relief and preparedness webpage.)
---
Reintroduced: 'Safe Banking Act' and Federal Maturities Bill
March 18, 2021 — On Thursday, Rep. Ed Perlmutter (D-CO) reintroduced his landmark legislation to reform federal cannabis laws. The bipartisan Secure and Fair Enforcement (SAFE) Banking Act of 2021 (supported by the California and Nevada Credit Union Leagues and co-sponsored by more than 100 members of Congress) would allow marijuana-related businesses in states with some form of legalized marijuana and strict regulatory structures to access the banking system.
Forty-seven states, four U.S. territories, and the District of Columbia (representing 97.7 percent of the U.S. population) have legalized some form of recreational or medical marijuana, including CBD, according to a news release from Perlmutter's office. Yet current law restricts legitimate licensed marijuana businesses from accessing banking services and products, such as depository and checking accounts, resulting in businesses operating in all cash.
In the 116th Congress, 206 members cosponsored the SAFE Banking Act and it passed the U.S. House in a broad bipartisan vote of 321 to 103, with 91 republicans and one independent voting in support. The bill also passed as part of the Heroes Act, an earlier COVID-19 relief package which was approved by the House on two separate occasions. In February 2019, the SAFE Banking Act prompted the first-ever congressional hearing on the issue of cannabis banking.
---
Consumer protection bill pending in California
May 28, 2020 – Recently, legislation with significant implications to California credit unions advanced in the state legislature. The COVID-19 Homeowner, Tenant and Consumer Relief Law of 2020 (AB 2501) would require credit unions and other financial institutions to halt mortgage and auto loan payments for consumers experiencing financial hardship during the COVID-19 pandemic.
Under the bill's provisions, consumers experiencing financial hardship during the COVID-19 emergency or 180 days after, can seek mortgage forbearance for up to 180 days, without submitting documentation of the hardship. During the forbearance period, financial institutions would be responsible for any fees and taxes associated with the property, including county taxes and insurance.
AB 2501 also requires financial institutions to pause auto loan payments for borrowers experiencing COVID-19 related hardships for up to 180 days without verification of hardship. Institutions would be barred from charging fees, penalties or additional interest beyond the amounts scheduled during the forbearance.
The California Credit Union League is advocating against the legislation, which is pending in the Assembly Appropriations Committee.
---
New Dep. of Financial Protection and Innovation in CA
The California Governor's Office and the state's Department of Business Oversight (DBO) announced a plan to overhaul the department to add a more aggressive consumer watchdog function to the agency, as well as to foster technological advancement.
According to the January issue of the department's Monthly Bulletin, Gov. Gavin Newsom (D) has proposed a $44 million plan to modernize and revamp DBO with added staff and authority. The agency would be renamed the "Department of Financial Protection and Innovation" under the plan.
According to the publication, the action is intended to "cement" the agency's position as a premier financial regulator "and national model for consumer protection." Proposed legislation making the change, the California Consumer Financial Protection Law, the publication stated, would give the DBO "expanded enforcement powers to protect California consumers from the regulatory retreat by federal agencies, most notably the Consumer Financial Protection Bureau (CFPB)." The publication noted that the new law would be modeled on the CFPB, with a focus on promoting innovation, clarifying regulatory hurdles for emerging products, and increasing education and outreach for vulnerable groups.
Credit union parity bill signed
Sept. 6, 2018 — Today, California Gov. Jerry Brown (D) signed a California Credit Union League-sponsored bill, AB 2862, which updates the California state credit union charter. The measure includes five provisions to clean up the code and give state-chartered credit unions parity with federally-chartered credit unions.
The provisions include:
Allowing state-chartered credit unions to purchase and sell whole loans.
Allowing investments in charitable donation accounts (CDAs).
Clearly exempting credit unions from the California escrow law.
Authorizing investments for employee benefits plan obligations without prior approval by the California Department of Business Oversight (DBO).
No longer requiring savings capital structure policies.
The bill is effective January 1, 2019.
Broad privacy measure gives consumers right to request data
July 10, 2018 — A sweeping privacy measure, the California Consumer Privacy Act of 2018, recently passed both the State Assembly and the Senate without any opposition and was signed into law by Gov. Jerry Brown. When it goes into effect in 2020, the law will give consumers the right to request all the data businesses are collecting on them, as well as the right to request that businesses not sell any of their data.
The law also comes with strict disclosure rules about data collected by businesses, and it empowers the California Attorney General to fine businesses for non-compliance.
The bill was passed to prevent voters from passing stricter rules in November. Californians for Consumer Privacy, a group headed by real estate developer Alistair Mactaggart, had been preparing a ballot initiative to that would have gone even further than AB 375.
State fills deputy commissioner's job
Jan. 17, 2018 — Caitlin Sanford is the new deputy commissioner of the division of credit unions for the California Department of Business Oversight (DBO), and will take the job Feb. 1. The appointment to the position was announced by Gov. Edmund G. "Jerry" Brown Jr. Dec. 29. A user experience researcher for mobile financial services at Facebook since 2016, Sanford previously held positions for Bankable Frontier Associates, a consulting firm specializing in finance solutions for low-income people. Among her roles at the firm were director of consumer insights, acting director and associate. Prior that, she was a research intern at the World Bank in Brazil, and a program assistant at the United Nations Poverty Environment Initiative in Panama and in Kenya.
---
What's new in your state?
Click here to submit your state-chartered credit union news stories to NASCUS today!